Scrapbook - Pictures, Events and Other Stuff!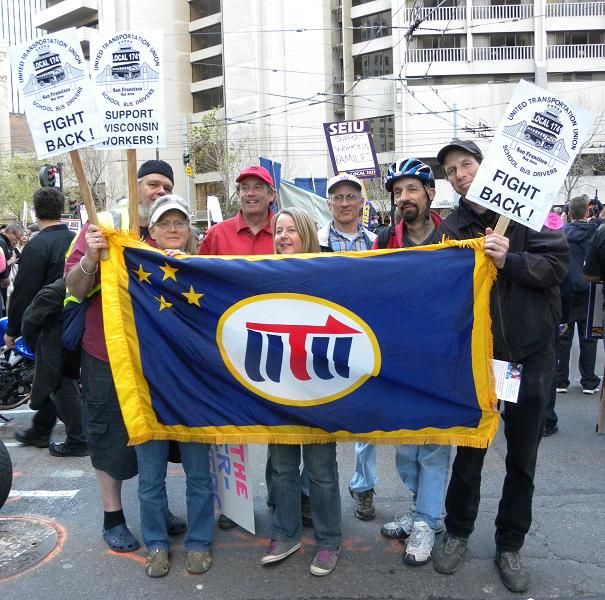 On April 4, 2011 we marched in solidarity with the Wisconsin workers for the We Are One rally.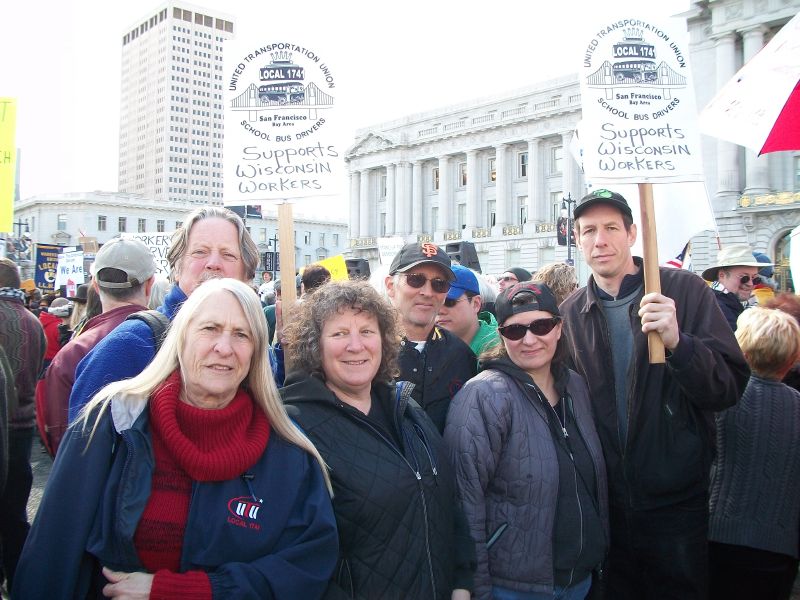 Members come out on February 26, 2011 to lend support for a day of coast-to-coast solidarity rallies to support Wisconsin workers in their struggle to keep collective bargaining rights.

March 4, 2010 day of action opposing the massive budget cuts to education. About 40-50 members came down to show support (click here for more info).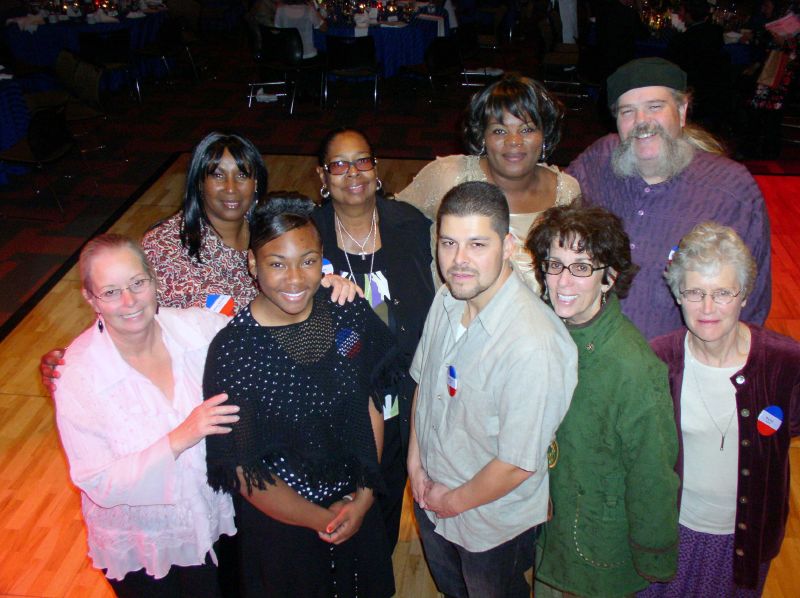 Our union is honored at a gala held by the group "Support for Families of Children with Disabilities" - Oct 2008.
Click here for a brief description from the San Francisco Chronicle.
Click here for a write up in School Transportation News.
Resolution Passed unanimously by the LCOA of UTU 1741 on April 24, 2008
"We encourage our members to observe a moment of silence & inactivity on May 1, 2008 from 9:40 a.m. to 9:42 a.m. to demonstrate opposition to the war in Iraq. The government is spending $435 million a day while funds for education, social services, and healthcare are drying up. We take this action in solidarity with ILWU Dockworkers who are stopping work for 8 hours on May 1, 2008 in opposition to the war ."
Union members participate in a moment of silence on May 1, 2008 to protest the war in Iraq and to show solidity with the longshoreman's (ILWU) work stoppage.
Click here for more information about this event.
Some of our members help out with the 2008 "Walk & Roll" event in Golden Gate Park, an annual event filled fundraiser held for families of children with disabilities. Our union's team won the gold medal in the "Rolling Relay Challenge," (done in wheelchairs of course) beating a team of investment bankers. Click here for a link to the website.
Our local joins in with the United Educators of San Francisco (UESF - click here for their site) to protest Governor Schwarzenegger's proposed budget cuts to education. The rally was held on March 11, 2008 in front of the state building in San Francisco.
Many of our members join in for the "Vigil for Healthcare" in Civic Center Plaza - October 17, 2007. As Mayor Gavin Newsom looks on, Paul Stein (one of our union officials) gave a speech about how our membership and their families have been severely impacted by increasing health care costs. For more information about the Vigil go the website of "It's our Heathcare" http://www.itsourhealthcare.org/
Union members at the UESF contract negotiations rally outside of SFUSD headquarters - April, 24 2007. Right panel - Jose Perez shakes hands with Mark Sanchez (school board commissioner) after being honored for saving 2 people's lives on his school bus. At this meeting of the school board our local also received a commendation for our years of service to the community.
click here to listen (mp3 file)
click here to watch the video (about 10 minutes long)
(NOTE: if the video link does not start at the 'commendation' portion of the school board meeting then you may need to to pull down the box that says "jump to" and look for "commendation honoring San Francisco school bus drivers" - it is between item 'i' and 'm.')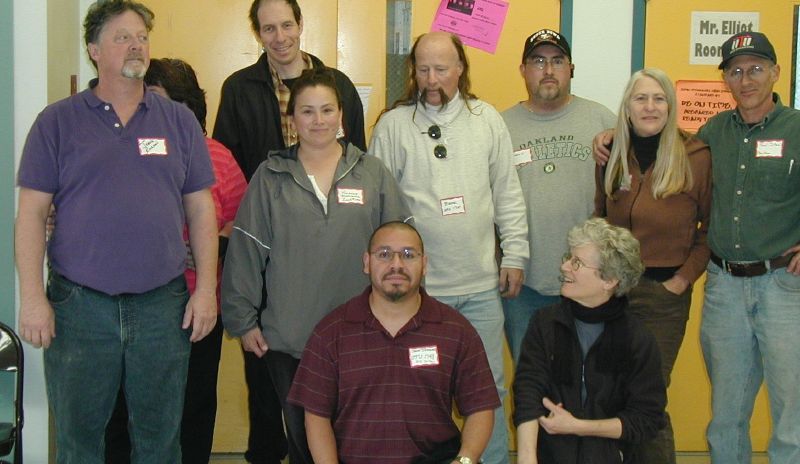 Members helping set up for the April 2007 information and resource conference held by 'Support for Families of Children with Disabilities'
(Not everyone who participated is shown as some members - who will not be named -were 'shy')
Link to 'Support for Families of Children with Disabilities' website (click here).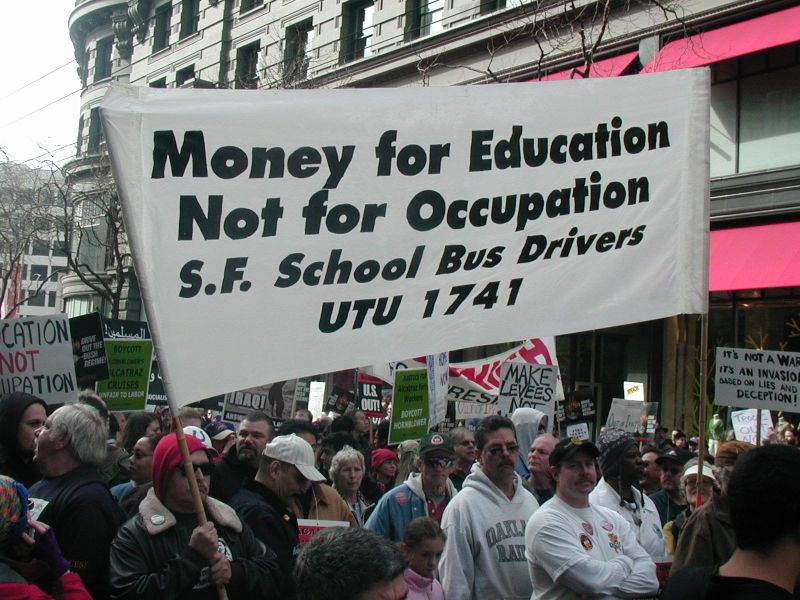 Union Members out Supporting the Combined Efforts of Antiwar/Anti-Hornblower Movements - January 27, 2007.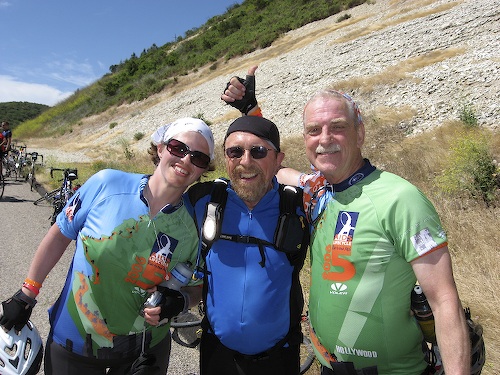 Marshall (Beau) Thompson (right side) and Emily Taormino Rode Their Bikes From San Francisco to L.A. in the AIDS/LifeCycle 2006 (June 4-10). Together they Raised Over $10,000 and we are all Very Proud of Them.
- Click here for a link to the AIDS/LifeCycle site -
- Click here for a link to more pictures from the ride -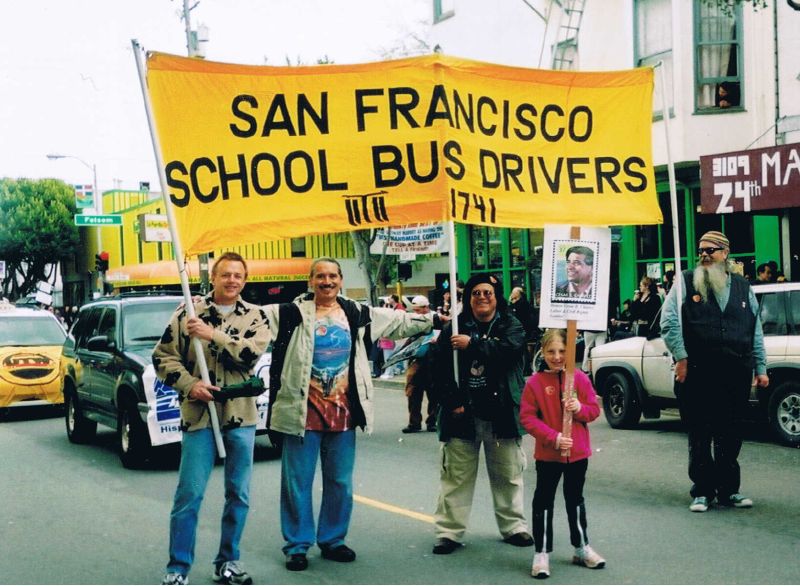 Cesar Chavez Holiday Parade and Festival - April 20, 2006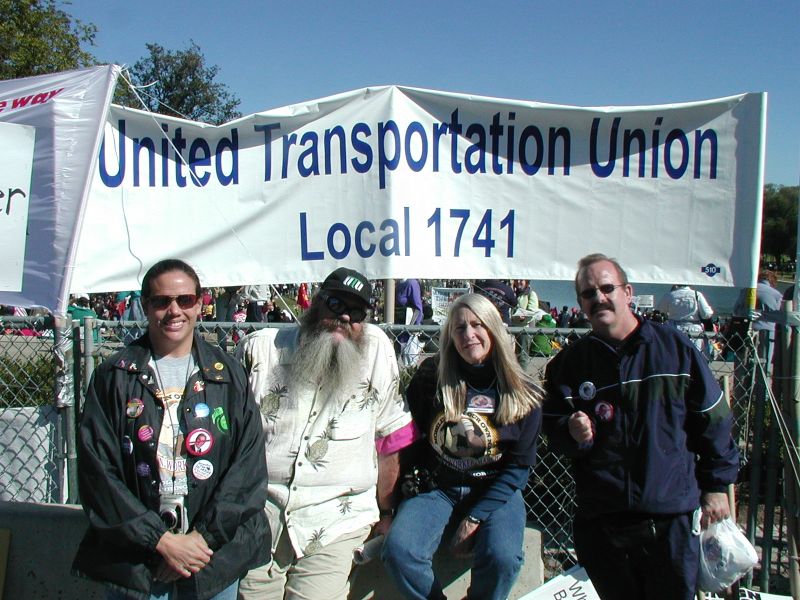 Ange Beloy, David Kush, Judith Hoff, Roy Arnold (Vice President Bus Division) at the Million Worker March, Washinton D.C. , Oct 17th, 2004.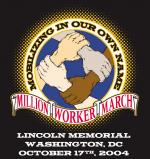 Click here to find out more about the Million Worker March/Movement.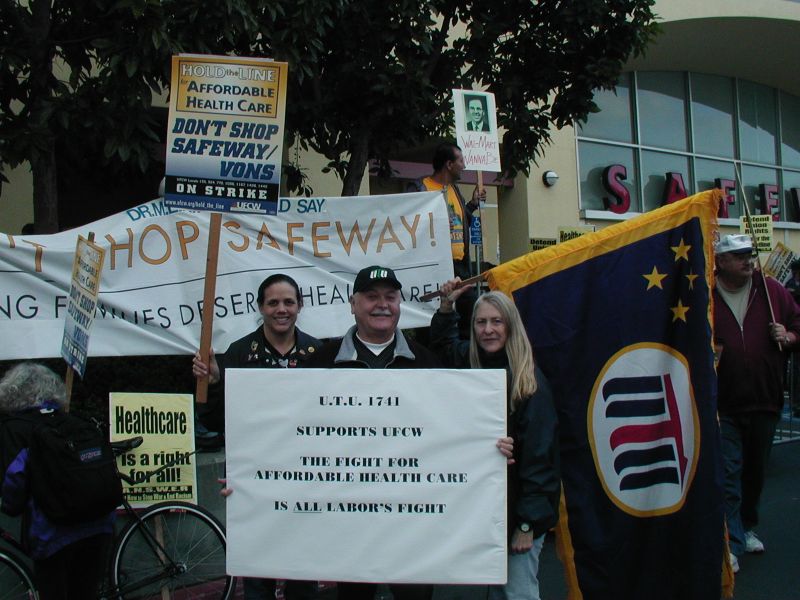 Ange Beloy, Roy Gruno and Shane Hoff lend suport to the Southern California Grocery Workers - Feb, 2004.
CLickClick the Picture Above to see the Photos from the Rebuilding Weekend 2003!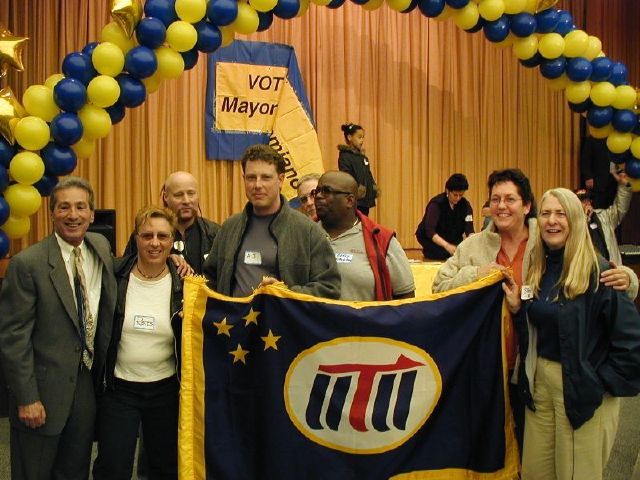 Tom Ammianos Mayoral
Kickoff!
February 2003.


Our local Marches
With Labor Against
The War On Iraq! -
February 16th 2003

San Francisco School Bus Drivers Join 40,000+ Protesting Bush's Plans to Attack Iraq
(Oct 26th, 2002). Click Here to Read our Anti-War Resolution Letter!
Mark Johdall and Shane Hoff at an Earth Day Rally outside the PG&E facility (2002) in Bayview Hunters Point.

Our Union is very involved with this community.
arkm