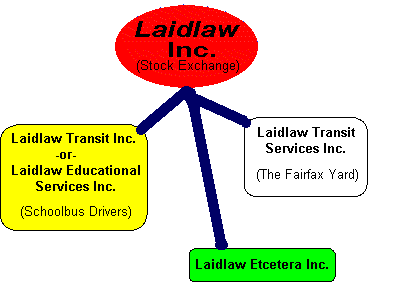 Here it is in all its glory - The Fairfax Yard. Laidlaw recently purchased this outfit and has staffed it with underpaid employees. Is it any wonder that Laidlaw barely does lip service to our requests to solicit more charter business. The Fairfax facility now competes with us for business that used to be ours and is guaranteed by our contract. The argument seems clear to us but Laidlaw maintains that the entities in yellow (see chart) and white do not communicate with each other. During negotiations Laidlaw denied having any knowledge of the latter entities business in San Francisco. Their priciple negotiator kept using RJR-Nabisco as an example; "the tabaco division and the food division do not talk to each other". It may serve to remind this individual that there was an incident in San Francisco in which the 'Tabaco Division' posted billboards adjacent to school facilities and 'The Company' was punished via the removal on its 'food divisions' products from the shelves. Laidlaw's latest action is a slap in the face to our union members and the entire community, clearly they are not acting responsibly - enough is enough - Not In Our City, Laidlaw!
Pictures of Some of the Vehicles - Not all say Laidlaw.
---

Click Here to Return to the Homepage !